Rolex is Presenting Partner and Official Timepiece of SailGP, the global championship that is redefining sailing.
A NEW GLOBAL RACING LEAGUE
Established in 2018 and headquartered in London and San Francisco, SailGP is a global championship featuring bold, cutting-edge technology and extraordinary skill and athleticism. The fan-centric inshore competition takes place in some of the world's most famous harbours and culminates with a winner-takes-all match race. National teams compete in identical, supercharged F50 foiling catamarans, engineered for intense racing at speeds exceeding 50 knots (nearly 60 mph/100 kmh).
The evolution of sailing
SailGP represents a key milestone in the evolution of yachting and enables Rolex to further enhance its long-standing relationship with the sport, which dates back to 1958. As a brand, Rolex has always appreciated endeavours that combine the highest levels of technology with towering individual talent. SailGP meets such a vision.
Rolex timepieces and clocks are visible throughout all SailGP events, and featured on each of the supercharged F50 catamarans – the world's fastest race boat.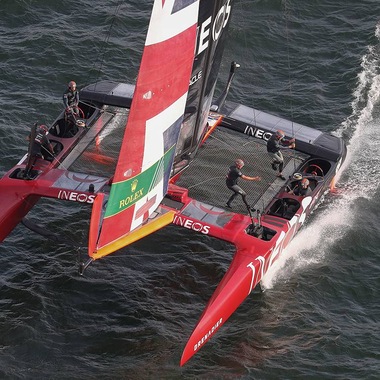 The
Yacht-Master II
Created to be the ultimate skipper's watch, the Yacht-Master II features a mechanical memory countdown function. It continues to set new standards in the world of yacht racing, just like the ground-breaking SailGP championship.