WHEN TENNIS BECOMES A TEAM SPORT
Rolex partners two major international team competitions: the Davis Cup and the Laver Cup. High points in the tennis season, these two events are a chance for the world's best players to show another side of sporting excellence, where athletes raise their game for the good of the team. This team spirit echoes the Rolex values.
The Davis Cup
Individual excellence, team spirit
A Davis Cup partner since 2007, Rolex has given its backing to the revised national team competition. In 2019, the Davis Cup revamped its format, adopting a more condensed competition schedule.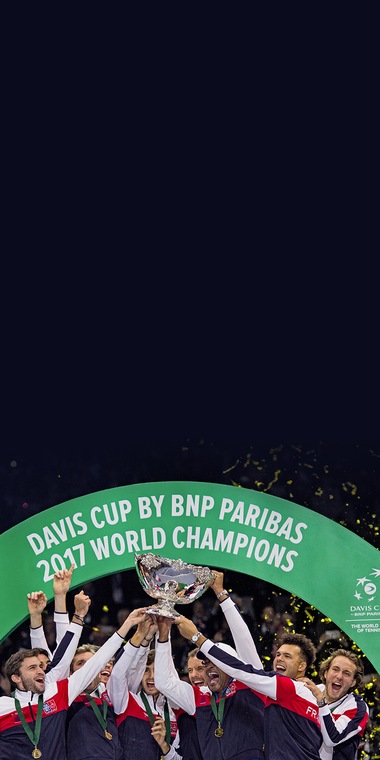 Founded in 1900 by Harvard student Dwight Filley Davis, the men's team-based tennis match between the USA and Great Britain soon became a global competition. In 1945, The International Lawn Tennis Challenge was renamed the Davis Cup in tribute to its founder. For more than 120 years, this event has given the world's best players the opportunity to raise the bar and put their team and country first. With participants from 125 nations, the long-standing competition is still going strong.
THEY CONQUERED THE DAVIS CUP
Rod Laver
1959, 1960, 1961, 1962, 1973 for Australia

Björn Borg
1975 for Sweden

Jim Courier
1992, 1995 for the USA

Roger Federer
2014 for Switzerland

Juan Martín del Potro
2016 for Argentina

Jo-Wilfried Tsonga
2017 for France
STEFAN EDBERG
EXEMPLARY CHAMPION OF THE DAVIS CUP
Stefan Edberg put his all into the Davis Cup, emerging triumphant four times with Sweden in 1984, 1985, 1987 and 1994. During his stellar career, the champion was a strong advocate of attacking tennis, winning 41 singles titles, including six Grand Slam® crowns, at the Australian Open (2), Wimbledon (2) and the US Open (2). Inducted into the International Tennis Hall of Fame in 2004, Edberg became a Rolex Testimonee in 2018.
LAVER CUP
INTERNATIONAL SHOWPIECE
Launched in 2017 by Roger Federer with Rolex as Founding Partner, this competition pits Europe against the rest of the world in a format similar to the Ryder Cup golf event. This international competition is played over three days, creating an exceptional intensity. It takes place every year in September, two weeks after the US Open. The first three editions took place in Prague, Chicago and Geneva, respectively. With the 2020 event cancelled, the Laver Cup was hosted in Boston, USA, in 2021.
A TRIBUTE TO THE TENNIS GREATS
Founder of the Laver Cup, Roger Federer has succeeded in bringing together four generations of champions for the three-day tournament. Australian legend Rod Laver is the figurehead of this novel competition. The Swede and 11-time Grand Slam® champion Björn Borg and the American and seven-time Grand Slam® winner John McEnroe rekindle their famous battles at the turn of the 1980s, this time as team captains. And so modern-day champions compete as the legends that inspired them look on.
Three days, four generations, twelve matches
Europe and The World each play in teams of six. Three players qualify based on their ATP ranking, while the other three are selected by the captain. The competition is packed into three intense days with three singles matches and one doubles match played daily. The matches follow a best-of-three-sets format with a 10-point super tiebreaker in the event of split sets being level.

Backed by the ATP since 2019, this unique competition honours the greatest names in tennis and paves the way for the future of the sport. For Björn Borg, "Only the Laver Cup can reunite so many great players in one place. So it's the best thing that could ever happen to tennis. It's the future of tennis."
On court, team spirit makes for extraordinary moments, like when Roger Federer played doubles alongside Novak Djokovic in 2018, and Rafael Nadal in 2017 and 2019. Selected in 2019 and 2021, Stéfanos Tsitsipás sums up what the Laver Cup is about: "It's a real honour to be here in the company of these talented players. So I aim to give back on court what I've gained from being with these champions. I want to play my best tennis and put on a real show for the crowd."