The Ryder Cup features the greatest golfers from both sides of the Atlantic.
Led by experienced captains who put team spirit above all else, 12-player ensembles from Europe and the United States compete over three days for the coveted Samuel Ryder Trophy. This unique competition honours the collective, with some of the finest champions in the game channelling their special talent for the greater achievement of the group.
The Trophy
Which nation plays the best golf? That was the question that sparked a friendly match between British and American golfers almost a century ago. Present that day, businessman Samuel Ryder was so enthralled with the event that he decided to deliver a trophy for a regular competition. In 1927, the two teams reunited in Massachusetts for the inaugural contest. The rest is history. One of golf's most coveted prizes, the Ryder Cup enshrines the traditional values of excellence and fair play that are the essence of the sport.
TEAM SPIRIT
At the Ryder Cup, the greatest champions from Europe and the United States compete for team glory, respect and to make history. Individual excellence alone cannot secure success so players pool their skills to determine which side of the Atlantic takes the honours in this esteemed golf competition contested every two years.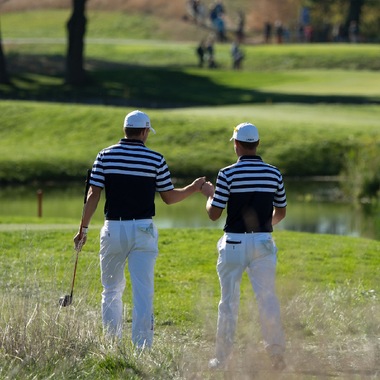 AN EVENT BEYOND COMPARE
With the crowd filling the grandstand, the noise, the anticipation and the nerves, the first tee at the Ryder Cup is a stage unlike any other in international sport. Each edition of the most exciting team event in golf attracts hundreds of thousands of spectators on course and millions of television viewers worldwide. Played over three days the competition is always intense, raising the passions of players and fans alike as the drama unfolds.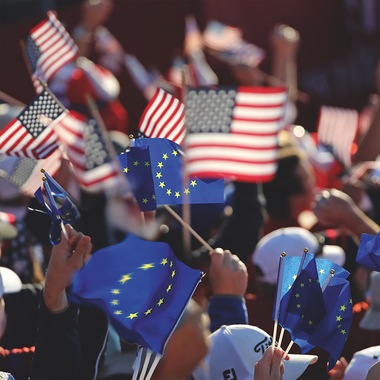 The Day-Date 40
Available only in 18 ct gold or platinum, the Oyster Perpetual Day-Date embodies Rolex prestige and excellence. At its launch in 1956, it was the first calendar wristwatch to display the day of the week – spelt out in full in a window on the dial – in addition to the date. With its emblematic President bracelet, the Day-Date continues to be the watch par excellence of eminent figures. Like the elite golfers competing at the Ryder Cup, it is a leader in its field.