Rolex's commitment to precision, high-performance and aesthetics connects the company to world-class architecture.
In watchmaking, as in architecture, excellence in design creates the perfect expression of form and function. Fostering the best use of space and technical innovation has allowed the company to develop relationships with acclaimed architects for its own buildings worldwide. They include Fumihiko Maki, Kengo Kuma and Michael Graves. Kazuyo Sejima and Ryue Nishizawa, of SANAA, designed the Rolex Learning Center for EPFL in Lausanne.
INTERNATIONAL ARCHITECTURE EXHIBITION
As part of its commitment to fostering the best use of space and technical innovation, Rolex supports the International Architecture Exhibition of La Biennale di Venezia as exclusive Partner and Official Timepiece.
THE ROLEX ARTS INITIATIVE
The Rolex Mentor and Protégé Arts Initiative invests in the future of architecture by mentoring promising young architects in a one-to-one relationship. Some of the world's greatest practitioners – Álvaro Siza, Kazuyo Sejima, Peter Zumthor and Sir David Chipperfield – have served with the programme as mentors. This programme brings gifted young artists from around the world together with artistic masters for an extended period of creative collaboration. It covers six other disciplines: dance, film, literature, music, theatre and visual arts.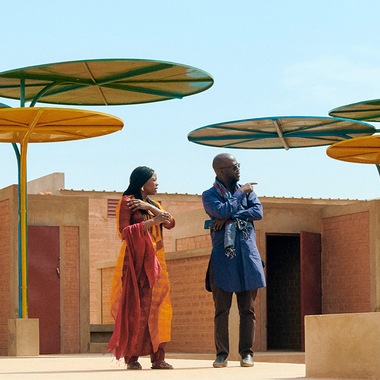 PLANNING CITIES THAT CREATE WELL-BEING
In 2016–2017 Sir David Chipperfield and his Swiss protégé, Simon Kretz, spent a year collaborating through the Rolex Arts Initiative. Their successful partnership resulted in a book: On Planning – A Thought Experiment. Published with support from Rolex and ETH Zurich, the book explores how to create cities that promote well-being through greater inclusiveness and innovative thinking.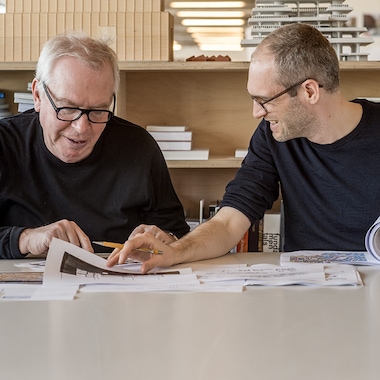 MENTOR AND PROTÉGÉE
2018–2019
Leading Ghanaian-British architect Sir David Adjaye OBE is the Rolex mentor in architecture for 2018–2019. He selected Mariam Kamara from Niger as his protégée. During the mentorship they collaborated on a project for a major cultural complex in Niamey, the capital of Niger.