Cellini
The Classical watch
The Cellini collection celebrates the eternal elegance of traditional timepieces with a contemporary touch; the name was inspired by the Italian Renaissance artist, Benvenuto Cellini
This collection combines the best of Rolex know-how and its high standards of perfection with an approach that heightens watchmaking heritage in its most timeless form. The lines of the Cellini models are sober and refined, the materials noble, the finishings luxurious: every detail respects the codes of the art of watchmaking
Refined
Guardian
of time

Design

The Cellini collection celebrates the most fascinating and exalting facets of watchmaking tradition. Here, elegance and nobility are absolute. The cases are available exclusively in 18 ct white or Everose gold cast by Rolex in its own foundry.

Their round shape and classic 39 mm diameter are marks of tradition, while the refined lugs, the polished finish and the double bezel – one domed and the second delicately fluted – add a touch of distinction.

The dials also bear witness to know-how and tradition. They are either lacquered or embellished with a black or a silver-plated classic "Rayon flammé de la gloire" guilloche adorned with gold applique hour markers. In the purest traditional style, these watches are available only with black or brown leather straps and with an 18 ct gold buckle.
From across
the solar system

Features

The Rolex Moonphase marks a new milestone in the development of luxury watches, confirming the Cellini range's place at the apex of the world's most prestigious chronometers.

But even among this exceptional array of highest-quality materials assembled by Rolex to create the Moonphase, one object has the power to send the owner's imagination soaring across aeons of time and millions of miles of outer space: the meteoric iron disc representing the full Moon.

Every privileged owner of a Moonphase will carry, for the rest of their lives, condensed on their wrist, a slice of a meteorite from across the Solar System — a celestial memento worn on the wrist which will, appropriately, mark the iconic and mysterious phases of the Moon.
The Cellini Moonphase displays the date around the circumference of the dial, via a centre hand with a crescent moon at its tip. This model is driven by a self-winding mechanical movement entirely manufactured by Rolex, whose patented moonphase module is astronomically accurate for 122 years.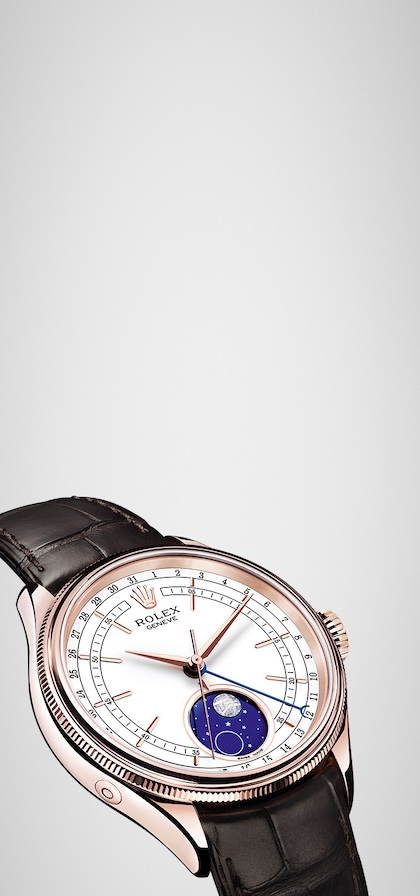 The gift of
Temporal
ubiquity

Features

The essence of a timeless classic, the Cellini Time displays simply the hours, minutes and seconds.

Cellini Time
39 mm, 18 ct Everose gold, polished finish

The days gone by and the days to come.
The Cellini Date adds a date display suffused with elegance, tradition and poetry, showing on a single dial the current day, the days gone by and the days to come.

Cellini Date
39 mm, 18 ct white gold, polished finish
Contact a Retailer about the Cellini
Only Official Rolex Retailers are allowed to sell Rolex watches. With the necessary skills and technical know-how, they will help you make the choice that will last a lifetime.