The Championships, Wimbledon
Rolex and Tennis
Temple of the original game
Founded almost a century and a half ago in 1877, The Championships, Wimbledon has retained its original grass courts. Mowed to exactly 8 mm, the grass is graced by players during the two-week tournament only. In 2022, The Championships celebrates the 100th anniversary of Centre Court in its current home in the Church Road ground. It now has a seating capacity of 15,000.
Though ever-changing, the Wimbledon rules remain steeped in tradition, highlighting the organizers' desire to maintain etiquette in the sport. Testament to this is the almost entirely white code for tennis attire. With the exceptional surface, respect for tradition, storied past and the greats who made their name on the courts of the All England Lawn Tennis & Croquet Club, Wimbledon is the temple of tennis.

Epic duels in an English Garden
The Wimbledon finals have gone down in history. As much as the winners, we recall the thrilling moments that raised the sport's values to the highest level on Centre Court. We think back to epic encounters between Rod Laver and John Newcombe, Björn Borg and John McEnroe, Chris Evert and Martina Navrátilová, Roger Federer and Rafael Nadal and many, many more. These clashes have written the legend of Wimbledon over the decades and Rolex has witnessed it all from a front-row seat.
Rolex and tennis come together as the sport becomes global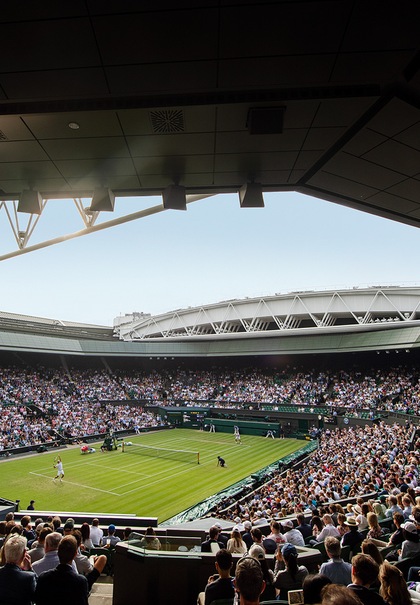 Wimbledon 1978
a landmark heralding the future
Pursuing the quest for excellence, Rolex joined forces with The Championships in 1978 as tennis reached new heights in sporting performance.
The late 1970s marked the beginning of the golden age of professional tennis. The appeal of the major competitions soared. The sport achieved global reach and the game's leading lights began to captivate audiences around the world. Wimbledon 1978 set the tone for the decades to come.

The home of tennis, where legends are written
The brand joined forces with the sport at its most iconic tennis event, the one that attracts the biggest global following – a seminal act that heralded the strength of Rolex's commitment. In south-west London, the All England Lawn Tennis & Croquet Club plays host to Wimbledon. The world's oldest tennis tournament, The Championships have been the home of the sport and the temple of grass-court tennis since the inaugural event in 1877.
Wimbledon is not only the home of tennis but also the place where history has been written year after year for almost a century and a half. Rolex has proudly supported this centre of sporting excellence for more than 40 years.