The Rolex Grand Slam of Show Jumping is a global initiative created in 2013. It comprises the four equestrian Majors: The Dutch Masters (which completed the quartet in 2018), the CHIO Aachen, the CSIO Spruce Meadows 'Masters' Tournament and the CHI Geneva.
Widely regarded as the ultimate show jumping challenge, the Rolex Grand Slam is the most coveted prize in the sport, rewarding the rider who wins the Grand Prix at three of these shows in succession. To date, Scotland's Scott Brash is the only competitor to achieve the feat, having done so in 2014–2015.
THE DUTCH MASTERS
Created in 1966 and held in the medieval city of 's‑Hertogenbosch, The Dutch Masters attracts the world's leading horse and rider combinations. The event's blend of magnificent show jumping and elite dressage puts it at the very top of the international indoor equestrian circuit.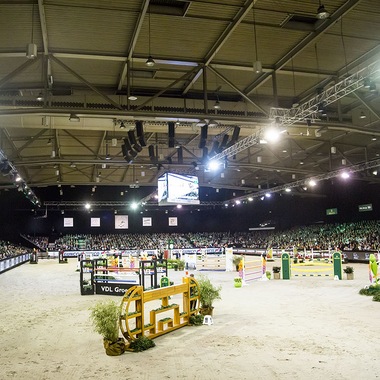 CHIO AACHEN WORLD EQUESTRIAN FESTIVAL
A special occasion for riders, a captivating experience for those in the stands. CHIO Aachen is simply magnetic as competitors and spectators alike revel in the electric atmosphere at the revered Aachen Soers showgrounds. With every masterful jump, elegant piaffe and stunning athletic movement, Aachen stands as a beacon of equestrian tradition and excellence which Rolex has partnered for more than 20 years.
CSIO SPRUCE MEADOWS 'MASTERS' TOURNAMENT
Staged in Canada, at the foot of the Rocky Mountains, the event's spectacular setting is matched by the outstanding facilities for the world's best horses and riders. The CSIO Spruce Meadows 'Masters' Tournament is regarded by many enthusiasts as the leading equestrian event in North America. Rolex has been affiliated with it the event since 1989.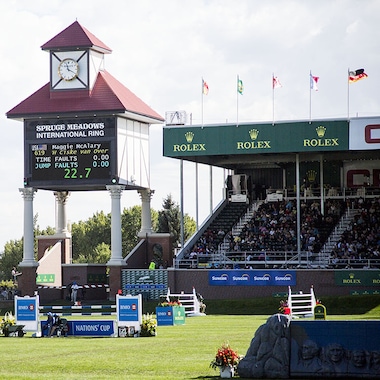 CHI GENEVA
Rolex has been the Presenting Sponsor of CHI Geneva, one of the equestrian world's most prestigious competitions for more than a quarter of a century. The event brings together an extraordinary line-up of elite riders for four days of compelling action in the world's largest indoor equestrian arena. Known also as the Geneva International Horse Show, it celebrated its 60th edition in 2021 and has been voted the best indoor jumping event on 10 occasions. Competition highlights include the Rolex Grand Prix and the Rolex IJRC Top 10 Final.